Folck Family Farm
2017 strawberry season
We are nearing the end of strawberry season. 
Closed Monday, June 26.
Call 937-828-0233 for crop conditions, hours, and what's available. Check out weather at the farm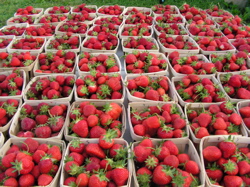 Thanks for helping raise funds for the Second Harvest Food Bank and AgrAbility!
Thanks to everyone who participated in the Pick a Pound for Hunger and the Ice Cream Social this past weekend to raise funds for the Second Harvest Food Bank of Clark, Champaign, and Logan Counties. Thanks also for helping also raise funds for AgrAbility, a program providing modifications to farm equipment to help disabled farmers keep farming. AgrAbility is a project with Ohio State University Extension and Easter Seals
Other products available at the farm:
We have 10 flavors of Ayars Family Farm Ice Cream. The Ayars family has a dairy farm near Mechanicsburg and make the ice cream with their own milk!
We also have sausage, bacon, chops, and roasts from our pigs for sale, too. Our sausage and bacon are all-natural with no BHT or other added preservatives.
The sausage varieties are:
Ground pork (no added preservatives)
Ground Pork with salt and pepper (no added preservatives)
Ground pork with salt, pepper, and sage (no added preservatives)
We raise purebred Chester White Hogs. We also have hogs available for freezers — ask us about whole or half.
Artisan jam, made by us from our berries, is also available for sale.
The farm is located in Mechanicsburg, Ohio. Our main crops are strawberries, red raspberries, and blackberries.
Open Friday & Saturday, 9:00 a.m. – 2:00 p.m.
For berry field conditions, and what is available, call 937-828-0233.